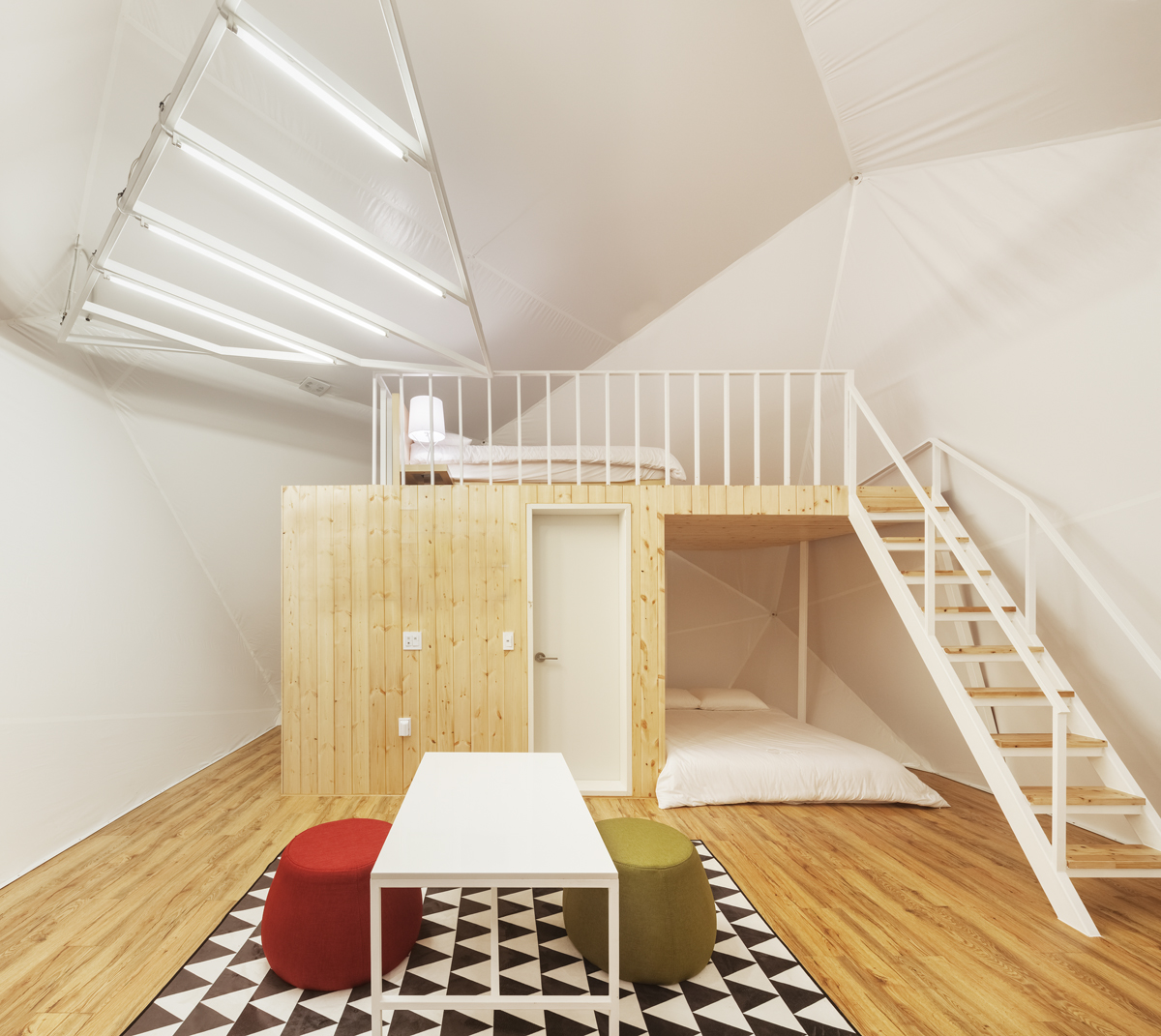 Pack light and get ready for adventure of the outdoors. Our journey leads to these light tent structures. Whether on the beach, in the forest, or in the open fields, these primitive forms invite you to explore wild indoors as much as the wild outdoors. Atelier Chang found forms that are familiar to us from the beginning of time, and turned them into unique and modern architectural space. Weather resistant fabric stretches over optimized steel frame to accommodate a space as big as a two-bedroom flat. Each unit has a proper kitchen and bath with hot shower as well as a proper HVAC system for harsh weathers. Enjoying in nature does not need to sacrifice out your convenient life style. Contact MIND GLAMPERS for further information. (+82 1086817580)
Cutent © has a shape of an angular rock. The key character is the duplex structure inside and 5m ceiling height contained in splash of strong colour. Cheerful facade of the Cutent will redefine the landscape wherever they sit on.
Firefly © mimics the shape of an egg, with entry area lit up like the firefly's tail. The breadth of the space implies luxury and relaxation. The elegant shape fits into any type of natural settings and highly resistant to wind-load. They will form large pebbles onto the stretch of landscape.
Mountain © follows the curvature of a hilltop. Inside the spaces are naturally divided into two compartments to allow maximum privacy between the rooms when multiple family stays. The mezzanine area is located in between and offers children's secret hiding place. They appear to mingle with the landscape behind while having an epic presence in the nature.
Stretch © utilizes the most inherent form of the fabric itself, borrowing its form from the tension forces. It uses the minimal number of steel frame and relies on the fabric to display gentle curvature between the two square frames on the front and rear. An epic view opens up on horizontal stretch of terrace on the front. Also it takes account of natural ventilation between the two entry points allowing more sustainable environment inside the tent.
Options: installation of footbath, high-end designer furniture, extra windows.
Contact MIND GLAMPERS (Minsung Kim +82 1086817580)
Site: South Korea
Time: 2014 - 2015.04 ongoing
Program: Glamping Tents 33-50 sqm
Status: Completed
Client: Mind Glampers
Photography: Shin Kyungsub